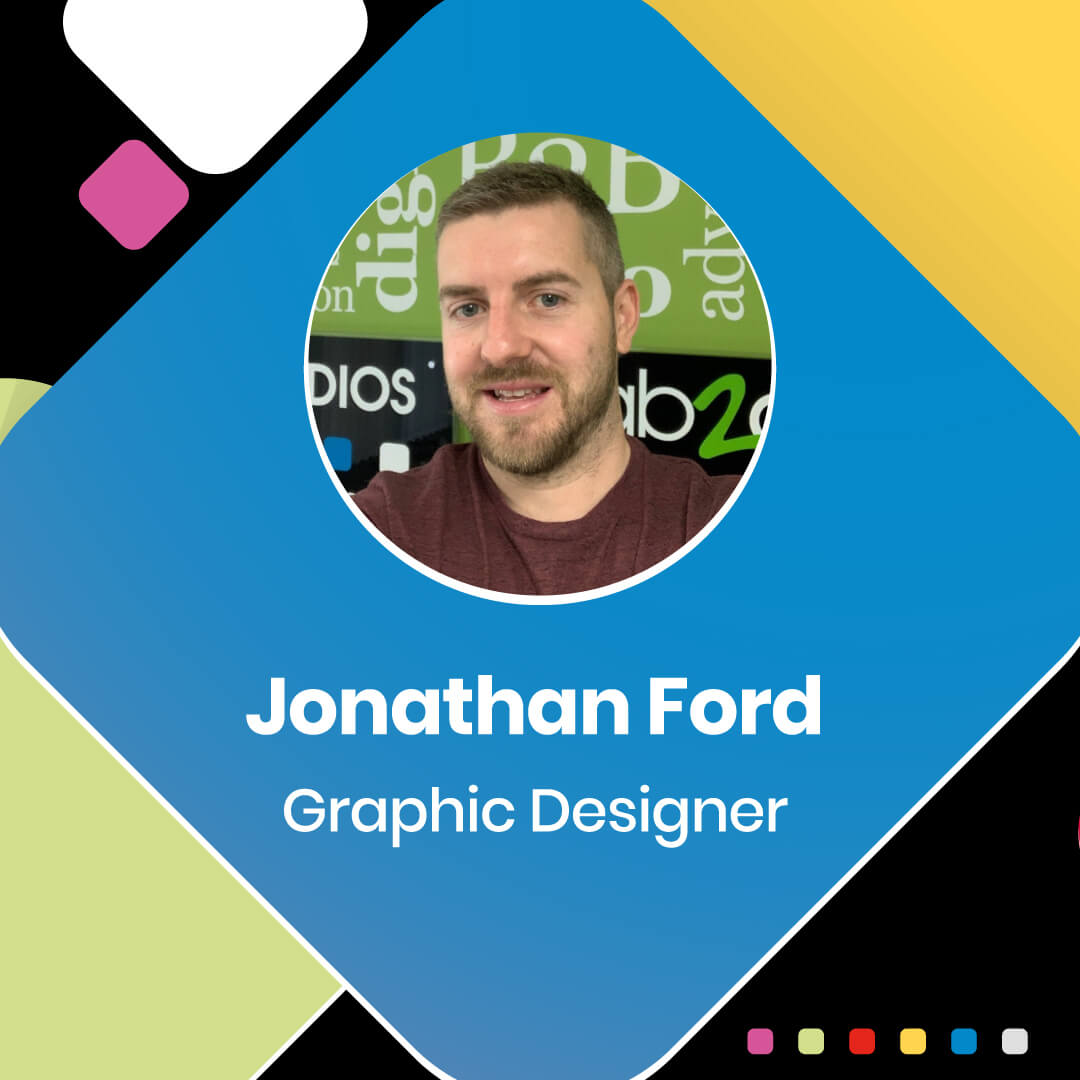 1. What is your day-to-day role/what does your job involve?
My role as a Graphic Designer at PAB involves creating designs for a wide range of clients; we have a good mix of motor and non-motor clients we produce work for. Generally, the work can range from coming up with ideas for a campaign to keeping on top of digital assets for our motors clients.
2. How did you get interested in your area of work?
I became interested in design in my last year of school when I grew fascinated with Peter Saville's album cover artwork for Factory Records. I wondered how these album sleeves were created and I wanted to find out who was responsible! I think a love of music and these amazing album covers captivated my interest in the world of design.
3. What is your favourite thing about working at PAB?
There are a couple of things: the people who work at PAB are amazing and totally different to where I've worked before. They're really friendly, down to earth and really embody a team spirit. Another aspect is the wide range of clients we do work for. Everyday I have something different to work on which is great as it means the job is never the same week in week out.
4. Who's your ideal client and why?
I've been lucky to work with some great brands during my career so far but a dream client to work with would be down to my love of football – it would have to be Manchester United! Being a supporter for most of my life, this would be amazing!
5. What has been one of your favourite projects to work on?
I would say working on the Richard Kendall rebrand as a whole, from the logo rebrand through to the campaign concepts. It was great to be given the responsibility to rebrand such a lovely local company who have been around for many years. To get a great reaction from our initial meeting on the campaign ideas was fulfilling and made all the hours of brainstorming and research worth it!
6. What does PAB's value 'data drives decisions' mean to you?
To me, this means the approach of optimising brand communications based on customer information. The data collected helps to predict needs, desires and future behaviours. These insights help to develop personalised marketing strategies for the best possible ROI.
7. If you could live anywhere, where would it be?
As it's one of my wife and mine's favourite holiday destinations, it would be Florida! We absolutely love it! Great weather, gorgeous beaches and a chilled way of life.
8. What 3 items would you take with you on a deserted island?
Bear Grylls (that may be cheating), my cats (because they are amazing!) and my wife (she wouldn't be pleased if I left her out!)
9. Do you have a party trick/secret skill?
I'm not too shabby at table tennis – I guess that's my secret skill having played for England schools when I was younger!
10. What's your favourite joke?
As you can see from the below I'm terrible at jokes, but this always makes me chuckle if nobody else!
What's the opposite of irony? Wrinkly!