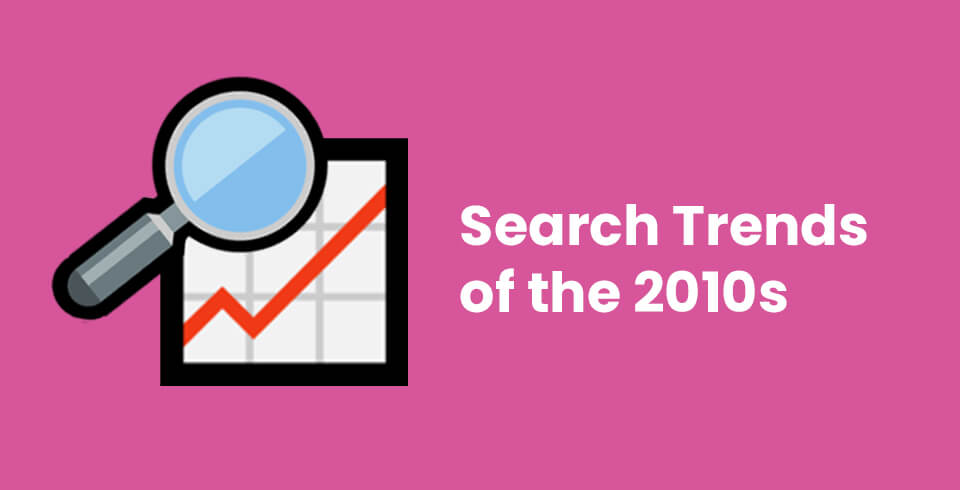 Here at PAB Studios it's our job to keep on top of the latest online trends. That means we know better than most how quickly things can change; one minute we're pouring buckets of ice on our heads, the next we're imitating a baby shark.
The things we search for on Google tell us an awful lot about the times we live in. With the 2010s (tenties?!) soon coming to an end, we've deep dived into the most interesting Google Trends search data from the United Kingdom over past 10 years.
They provide a fascinating snapshot of the things we loved, hated, eaten, watched, asked questions about and listened to this decade.
---
Digital Marketing 📈
Let's start with what we know best. How has the digital marketing landscape changed since 2010 in the eyes (or fingertips) of Google users?

🔵Digital Marketing 🔴Online Advertising
The two started neck and neck for a couple of years before Digital Marketing raced into a commanding lead.
What can we take from this shift in semantics? It's a fascinating insight into how perceptions have shifted significantly towards a more holistic approach and away from seeing the digital space as simply another advertising channel.
---
🔵SEO 🔴Google Ads 🟡Social Media
Google Ads started the decade as the most searched for of the three and ended it as the least searched for. After a slow start, interest in Social Media soared from 2015 onwards and continued to tower over its little digital marketing cousins for the rest of the decade.
Poor little SEO struggled to get much attention until this year; 2019 was the first time there's been consistently more interest in Search Engine Optimisation than there is in Google Ads.
---
🔵Facebook marketing 🔴Instagram marketing
🟡YouTube marketing 🟢Twitter marketing
🟣LinkedIn marketing
It was all about Facebook at the start of the decade; no other social media channel came close for marketers.
Come 2015, interest in Linkedin Marketing had overtaken Facebook Marketing. The two battled it out for a few more years before Linkedin took the crown as the most searched for form of social media marketing in 2019.
Things don't look too good for Youtube and Twitter Marketing as we head into the new decade – but look out for Instagram challenging Facebook and Linkedin for marketers' attention.
---
Technology 💻
Back in 2010 we thought the Amazon Echo was just an Amazon worker enjoying the sound of his own voice in an empty distribution warehouse.
🔵Google Chrome 🔴Safari 🟡Firefox 🟢Internet Explorer
The battle of the browsers tells the story of Google's growing dominance of the tech and digital space.
Mozilla's Firefox had its claws dug firmly into Google Chrome until around 2011, when interest in the browser began to nosedive. Interest in Chrome has remained dominant ever since.
Intriguingly, though, interest in all browsers has dipped significantly from around 2016 – reflecting our changing habits as we move away from desktops and laptops towards smartphones with pre-installed browsers.
---
🔵Apple 🔴Samsung 🟡Nokia 🟢Huawei
Three tech giants all shared much of the same search space until the end of 2010.
Then Nokia fell flat while Apple and Samsung ran off together into the distance. The two have enjoyed a good old-fashioned tug of war when it comes to search interest ever since, with Apple's iPhone launches bringing periodic spikes.
Newcomers Huawei have seen interest in their brand climb steadily since hitting the UK market in 2016, but they've still got a lot of catching up to do.
---
🔵Whatsapp 🔴Skype 🟡BBM 🟢Facebook Messenger
Skype was the go-to for our instant messaging needs when WhatsApp was nothing more than a glint in its founder's eye. It remained fairly popular until around 2013, when interest in WhatsApp really took off.
BlackBerry Messenger (remember that?!) had a brief season in the sun before falling into obscurity – and if trends continue, it'll soon be joined there by Skype.
---
Consumers and Advertising 🛒
It's estimated that one in every five pounds spent with UK retailers is now spent online.
🔵Black Friday
It took a little while for the phenomenon to hit the UK, but it's now one of the biggest days in the consumer calendar.
Interest in the event gets bigger and bigger each year, spiking dramatically as the day approaches before it goes back into hibernation for another 12 months.
---
🔵eBay 🔴Amazon
Shopping habits have changed massively in the past 10 years. Plenty of us were buying from Amazon at the start of the 10s, but many more were hunting for bargains on eBay.
Searches for Amazon started topping searches for eBay for the first time in 2018, and current trends suggest that gap will continue to widen in 2020 and beyond.
It's pretty clear from the spikes where we tend to do our Christmas shopping – searches for Amazon almost double in November and December.
---
🔵John Lewis Christmas Advert
It's now as much a staple of the festive period as mince pies and mistletoe. John Lewis made their first Christmas advert in 2007, but it was their 'Long Wait' advert in 2011 which brought the storytelling format to our screens.
Interest peaked with Buster the Boxer in 2016 but has fallen a little each year since then.
How will Edgar fare this year?
---
Current Affairs 📰
If you'd have asked someone back in 2010 what they thought about Brexit you'd have got nothing but a blank stare.
🔵Brexit 🔴Donald Trump
It's incredible to think that we went over half of the decade without the word 'Brexit' even existing in our collective conscience. And for over 5 years of the 10s, Donald Trump was nothing more than a businessman.
How that all changed very, very quickly…
---
🔵Climate change 🔴Greta Thunberg
Whatever you think about her tactics, it's plain to see that Greta Thunberg has got people talking about her cause.
Interest in climate change trundled along for much of the decade before big spikes in 2018 and 2019, corresponding precisely with an increase in Greta Thunberg searches.
---
🔵David Cameron 🔴Theresa May 🟡Boris Johnson
🟢Gordon Brown
There's been plenty to talk about when it comes to UK politics in the past 10 years, with four Prime Ministers overseeing some of the most tumultuous periods ever seen at Westminster.
David Cameron managed to go through the first term of his premiership without much fuss, but that soon changed with the EU referendum announcement.
Search interest in his successors has, quite understandably, been pretty high.
---
Crazes and Challenges 🤪
Tim Berners Lee probably didn't envisage this when he got started on his World Wide Web project.
🔵Memes
They form the core of our internet browsing experience, but that wasn't always the case.
Nobody was looking for memes until about 2012. Nowadays it seems as though the internet was specifically created to be one giant meme library.
---
🔵Doge 🔴Grumpy Cat 🟡Nyan Cat 🟢Harambe
Animals make great memes. Sadly, just like in real life, most of them tend to have a life cycle shorter than our own.
---
🔵Planking 🔴Cinnamon Challenge 🟡Mannequin Challenge
🟢Ice Bucket Challenge 🟣Harlem Shake
It was probably inevitable, given the incontrovertible truths of our nature, that eventually the internet would be nothing more than a showcase of human stupidity.
There have been plenty of viral challenges this decade, but nothing comes close to the Ice Bucket Challenge in terms of search popularity.
---
Sport and Fitness 🏅
If you'd heard 'Harry Kane' on a news report back in 2010 you'd have thought there was a tropical cyclone heading your way.
🔵Harry Kane 🔴Wayne Rooney
Wayne Rooney surpassed Bobby Charlton's record of 49 England goals in 2015 – just as Harry Kane was establishing himself as one of the leading strikers for both club and country.
No other England player has come close to these two in the past 10 years as far as search popularity is concerned.
---
🔵Zumba 🔴Crossfit 🟡Yoga
Back at the start of the 2010s you couldn't walk past any gym or community centre without seeing a class full of middle-aged Mums shaking their goodies to a Zumba beat.
Now, though, yoga is clearly the activity of choice for the UK's fitness-conscious Googlers – especially around the time that we start making those New Year's Resolutions.
---
🔵NFL 🔴NBA 🟡MLB 🟢NHL
The American sports market has been booming in the UK over the past few years, with the NFL, NBA and MLB all playing regular season games in London at some point in the past decade.
American Football remains by far the most popular US sport in the UK, with basketball not far behind. Despite having played games in the UK, baseball still struggles to get much attention in search, while ice hockey has even further to go to capture the curiosity of British sports fans.
---
Food and Drink 🍴
You can't walk into a high-street shop without seeing an Avocado emblazoned on a mug or a t-shirt.
🔵Veganism 🔴Meat
Increased awareness of the world around us has resulted in a desire to change the way we eat. February 2016 marked the point where searches around Veganism outnumbered those on the topic of meat.
Now we're twice as interested in searching for topics related to meat-free alternatives.
Interest in meat peaked in February 2013 with the infamous horse meat scandal.
---
🔵Gin 🔴Beer 🟡Wine
If you'd have told us back in 2015 that gin would soon start challenging beer for popularity among UK drinkers, we'd have to conclude that you'd had a few yourself. But that's the reality as we move into 2020.
All three of the nation's favourite alcoholic beverages have seen an increase in search interest across the decade, but it's the gin renaissance which really stands out.
---
🔵Avocado 🔴Curly Kale 🟡Sweet potato 🟢Quinoa
There have been plenty of 'superfood' fads throughout the 10s, but these providers of nourishment seem to have stuck around and now feature regularly on our plates. We didn't think much about them until 2013, though.
Those little spikes you see? That's January, every year, when we think Google can somehow reverse all that chocolate and cheese we ate over Christmas.
---
Music 🎵
🔵Gangnam Style 🔴Uptown Funk 🟡Despacito 🟢Shape of You 🟣Baby Shark
This was the decade of virality.
Gone are the days of pumping a record out on a label, putting in the hard graft around the world and hoping for a stint on Top of the Pops. All you need is a Youtube account and an annoyingly catchy hook.
We think historians might be a little confused when they look back on these most watched YouTube videos of the decade.
---
🔵Dubstep 🔴Hip Hop 🟡K-Pop 🟢Grime 🟣Classical
It started as the decade of Dubstep and ended with Dubstep in the dumps. It seems our appetite for Skrillex wasn't sustainable, but we still love a bit of Tchaikovsky.
It was the dominant genre at the start of the 2010s, but in December 2019 interest in K-Pop exceeded interest in Hip Hop for the very first time.
---
🔵Adele 🔴Ed Sheeran
They're the two biggest-selling British artists of the decade, but interest in Adele and Ed Sheeran comes in peaks and troughs.
Who'll be Rolling in the Deep in Google trends as we enter the new decade? Who will be sitting upon that  Castle on the Google Search Trend Hill? (Sorry).
---
Television📺
Watching your favourite programmes on a good old TV set is still more popular than streaming – but only just.
🔵Eastenders 🔴Coronation Street 🟡Emmerdale
Soaps are a national institution, but interest in them seems to be on the decline.
The residents of Albert Square managed to capture our interest for most of the decade, but all 3 soaps now sit side-by-side when it comes to search trends.
---
🔵Netflix 🔴BBC iPlayer 🟡ITV Hub 🟢All 4
Over 13 million of us signed up to TV streaming services this year.
BBC's iPlayer first launched in 2007, with ITV and Channel 4 soon following suit with their own on-demand services. All three of them dominated the streaming search space until about 2017, when Netflix became the most searched for of the streaming platforms.
---
🔵X Factor🔴Strictly Come Dancing
The battle between the two Saturday night shows was once legendary, and it was the X Factor which dominated our searches for the first part of the decade.
Since 2016, though, we've been far more interested in ballroom than we have boy bands.
---
Cities 🏙️
The battle to be the UK's second city was a constant feature of the 2010s. A YouGov poll back in 2015 had Manchester down as the public's most popular choice for second city, followed by Birmingham, Edinburgh and Leeds. What do the searchers of the UK think?
🔵Manchester 🔴Birmingham 🟡Edinburgh 🟢Leeds
Looks like that's still the case. Interest in Manchester has been consistently higher than another other city in the UK except London for the past ten years.
Having two world famous football teams (and at least one which has consistently won trophies) might have something to do with that, we reckon.
---
How to ❓
The internet was made to be helpful, after all. We'll finish up with a look at the top 'how to' searches across the decade for a fascinating insight into the things we want to achieve going into 2020 and beyond.
🔵How to draw 🔴How to lose weight 🟡How to make money
🟢How to make pancakes
Maybe we've been looking in the wrong place in our search for human happiness. All we really want to is to be a bit less naff at drawing…and better pancakes.
---
Get ahead in search
Looking for a spike in your own Google search metrics? Have a read about our SEO services and give us a call on 01924 201711.