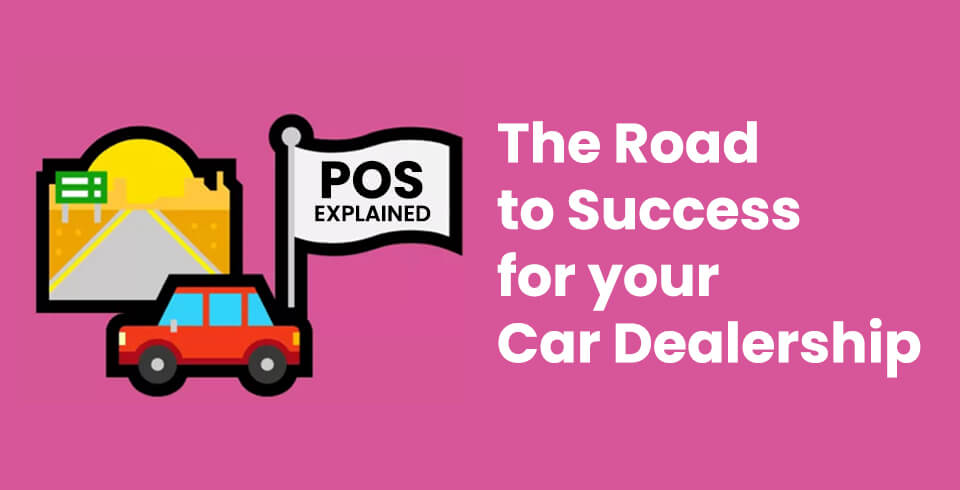 Author: Danielle Bateson – Digital Marketer
You've popped to the local supermarket and are standing in line with your bread, milk, cereal and something for your lunch tomorrow.
Glancing around waiting for the person in front of you, you notice the display to the right, so you grab 2 chocolate bars-they're on sale! And oooo… there's a CD for £2, so you pick that up too. You finally get to the checkout and the woman at the till asks you if you want to enter a competition to win £1,000. You nod and say yes; it's only a pound!
Next thing you know your shopping is a fiver more than you wanted it to be and you don't understand why.
Want to hear a secret?
That's what Point Of Sale (POS) marketing is!
What is Point of Sale Marketing?
POS is a technique that is used to encourage consumers to impulsively purchase products when they are in a retail outlet. Marketers like to add forms of POS at locations called "touch points" throughout the customer journey that could influence their buying decisions.
POS can increase sales by as much as 20%! So, if you're wanting to increase sales then POS could be something you should start to use.
Understanding POS 🤔
Point of Sale marketing is a crucial focus for marketers in the automotive industry. Customers tend to make purchasing decisions on high-margin products or services at POS touchpoints. – when it's cars you're selling, POS can make a huge difference.
These touch points are little psychological nudges which make us feel the need to buy something. In a car showroom, we can leave little hints lying around which can convince customers that they're in the right place to make a purchase.
These touch points should be strategically placed throughout your showroom or forecourt in order to increase the chances of converting visitors into customers.
What types of POS work well in car dealerships? 😎
POS comes in many different forms:

🚗 Flags
🚗 Poles
🚗 Banners
🚗 Registration plates
🚗 Window and door hanging units
All these forms of POS are useful, but you should have a clear goal in mind when using them. Throwing them around the place willy-nilly won't be particularly effective.
Want to let passers-by know about your amazing offers? Eye-catching window and door graphics will do the trick. Looking to up-sell extra services to existing customers? Try hanging display units and displays in the showroom itself.
Timing is crucial, too. Put yourself in your customers' shoes. Have a think about the journey they take through your dealership and the sort of messaging they want to be seeing at each stage.
Positive benefits of POS ✅
Point of sale marketing impacts your business positively in several ways:
🚘 It helps increase sales within your business on both higher and lower margin products depending on what you are using POS for.
🚘 It allows you to create personal and meaningful connections with your customers
🚘 Increases brand and product awareness.
🚘 POS can be more cost effective than other media channels
Where do you use POS displays? 🤷‍♂️ 🤷‍♀️
Well, there are no rules as to where POS can and can't be used. Wherever you decide to use it, your display needs to compliment your showroom and the customer journey you provide.
Traditionally, businesses set up POS displays near the exits of the premises to improve the rate of impulse purchases as customers are leaving. This doesn't really work with cars, though, unless you've got a plethora of Premier League footballers living nearby.
Dealerships need to be a bit more creative. Thinking outside the box with POS gives you more chances to micro-market specific products at every stage of the customer journey.
POS Marketing Ideas 💡
There are several examples of POS that are perfect for car dealerships and that really do work – trust us, we're the experts!
Why not try:
🏁 Flags & Poles – easily seen from afar, they grab the attention of people who aren't necessarily on your premises. They bring attention to wherever they're displayed so displaying things like logos and short memorable messages are great to increase brand awareness and hook potential customers.
🎟️ A specially organised event – not strictly a form of POS, but it does give you the opportunity to really go to town with displays, banners and flags. These are all good to increase brand awareness and gives your dealership a makeover at the same time. These little touches are memorable engagement points for customers to interact with and the things that customers remember when thinking about your brand.
🛑 Billboards, signage and posters – bright colours and big visuals will attract customers so make the most of these bad boys. Make sure that the information is short and snappy. We live busy lives. People are less likely to read large paragraphs of text, so make every word count.
🚘 Branded Registration plates – these increase brand awareness, look professional and can make the car look newer by hiding those number plates! The cars also go off-site so this is also a form of mobile POS – so keep an eye out for them!
🖼️ Banners & Frames – these can help you convey messages which you might not have space for elsewhere. Use them to update your customers on the latest deals or use these to upsell smaller things like upgrades.
⚙️ Product demonstrations and Interactive Displays – these are more likely to influence people if they enjoy the displays. Sell the experience as well as the product – just like everyone loves getting a free taster of something in the supermarket, things like test drives whet the appetite of potential customers and give them a little taste of what their driving experience could be like.
So, how exactly does this all look in practice? 💭
Pretty damn good! Here's some examples of what we've done for our clients.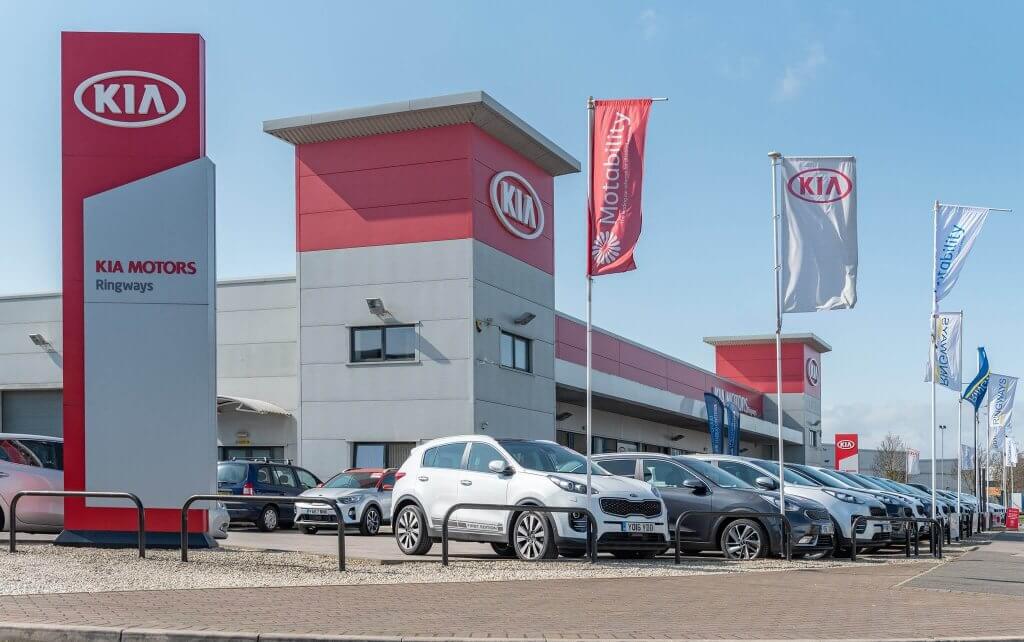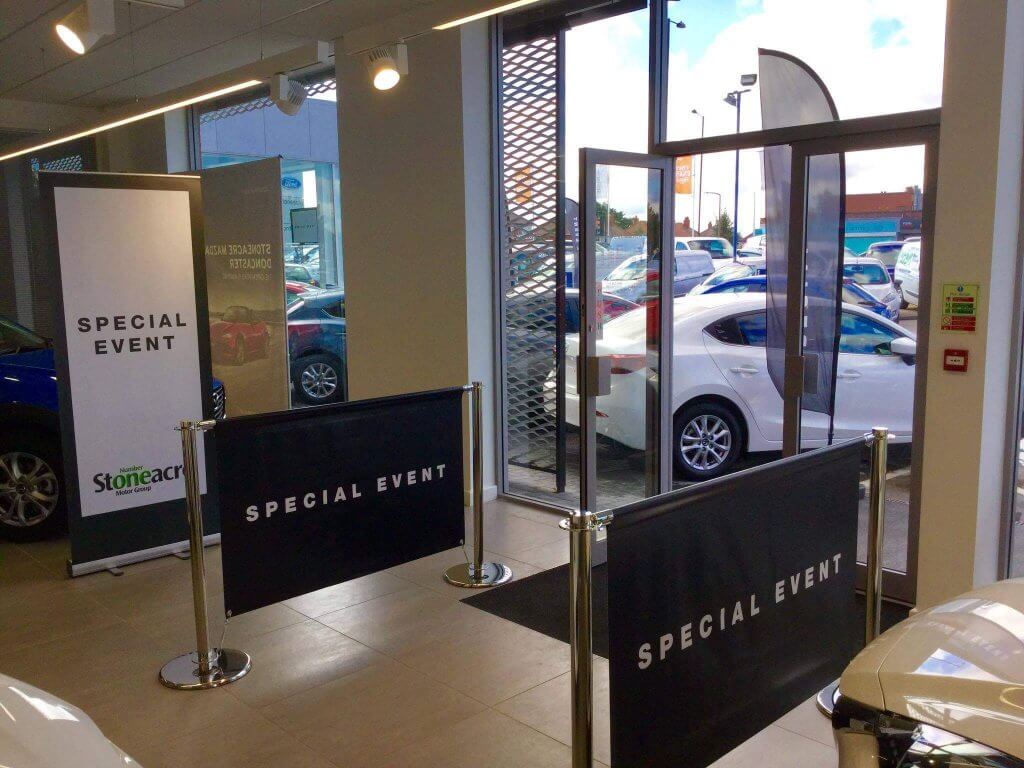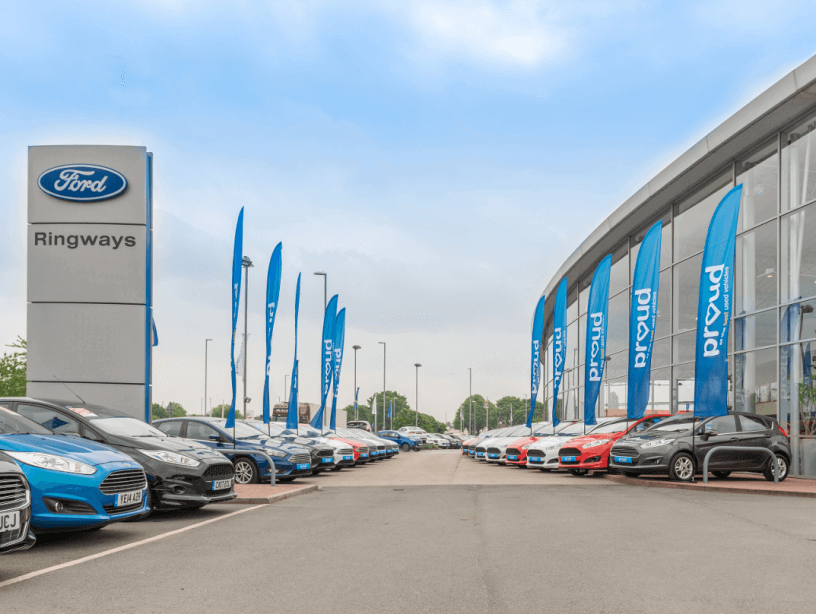 Hopefully you've learnt something that will help with your understanding of POS and drive customers through your dealership.
Remember that among everything you've learnt, don't overwhelm your customers – often less is more!
If you're looking for POS for your business get in touch with us here at PAB by calling 01924 201711 or fill out an enquiry form today!