Recently at PAB Studios, we produced some POS (point-of-sale) marketing for our client CarSupermarket.com, who have been focusing on strengthening their branding. The team at PAB Studios have been working closely with the client to evaluate their current branding, and improve its consistency within the showroom and across digital platforms. 
The recent POS marketing production involved designing and printing large-scale banners to transform the CarSupermarket.com showrooms into a compelling space that captures attention and converts visitors into returning customers. We worked closely with our long-term and local supplier CSD Print to execute the project.
Camille (PAB Studios Director) personally visited their Barnsley site to talk with the client and look around the showroom itself. This helps us as a team to understand the client, the brand and their customers. From this, we can begin creating the best strategy specific to their needs, customer base and goals as a business.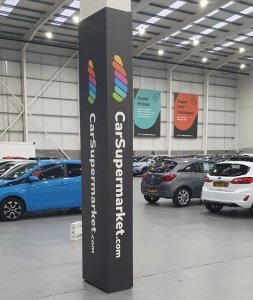 What is POS marketing?
 Point of sale marketing refers to the strategic placement and promotion of products or services at the location where a purchase is made. The primary objective of POS is to influence the buying decision of a customer once they're ready to make the purchase – it should be visually captivating to initially capture a customer's attention. This can be achieved through window/door graphics, hanging units, display boards, freestanding units and much more!
Our Work
With the aim to produce cohesive banners to the Client's existing branding, we focused heavily on the colours. We researched the emotions associated with their brand colours and we linked each one to a different area of their business; e.g., blue is linked to customer care.  Now, not only are the brand colours eye-catching; they are also associated with different services and benefits, with intent and meaning behind them. 
The designers created several different options for the banners, using the updated Brand Guidelines we had produced. From these options, an in-house survey was distributed to determine the most impactful one. 
The Printing Process
As a successful marketing agency of over 30 years, we have developed excellent working relationships with high-quality suppliers, including CSD Print. Once our team had a clear vision of exactly what we wanted the materials to look like, we got in touch with CSD Print to execute this vision.
We have worked with CSD Print for over 30 years, and so there is an invaluable level of understanding between our two teams. They started work on creating the POS materials according to our vision, and initially the material selected didn't quite work. The material had to be wrapped around the stand, which proved quite difficult originally. After some revisions, a new, more appropriate material was selected.
CSD Print visited the Barnsley site themselves to make sure the new material would work; a level of bespoke care and attention we think is important to offer our clients. After overcoming initial problems, our vision was brought to life. 
Advantages of using POS for CarSupermarket.com
Visual impact and brand reinforcement 
In the competitive world of automotive sales, a strong visual presence is crucial in remaining relevant to your target audience. We strategically placed the banners throughout the showroom to create an engaging and inviting atmosphere. The consistent use of colour, font and messaging establish a cohesive brand image. 
Highlighting features and benefits 
 We used the banners to effectively highlight services and benefits CarSupermarket.com offers to their customers. Having the banners in view creates a feeling of interest within the customer from the get-go as they are exposed to it as soon as they enter the showroom – it will stay in their minds throughout their visit.  Customers also tend to read POS without realising, while strolling a showroom or shop floor they take in surroundings and signage, providing a sub-conscious connection to the brand and products.
 Guiding the customer journey 
We understand that navigating a car showroom can be overwhelming at times. To prevent this, the banners allow customers to make informed buying decisions while having a streamlined, stress-free experience. They essentially act as silent, but effective sales assistants. Customers can prefer this because in their minds they have thought about it themselves rather than it being 'pushed' on them by an employee in the showroom. 
Overall, POS marketing has been used as part of the CarSupermarket.com marketing strategy to not just be appealing to the eyes (although it's a benefit), but to craft a comprehensive strategy that enhances brand identity, guides the customer buying journey and drives sales. 
 If you're looking to transform your space and create an environment of success, PAB Studios can develop your business to leave a lasting impression.