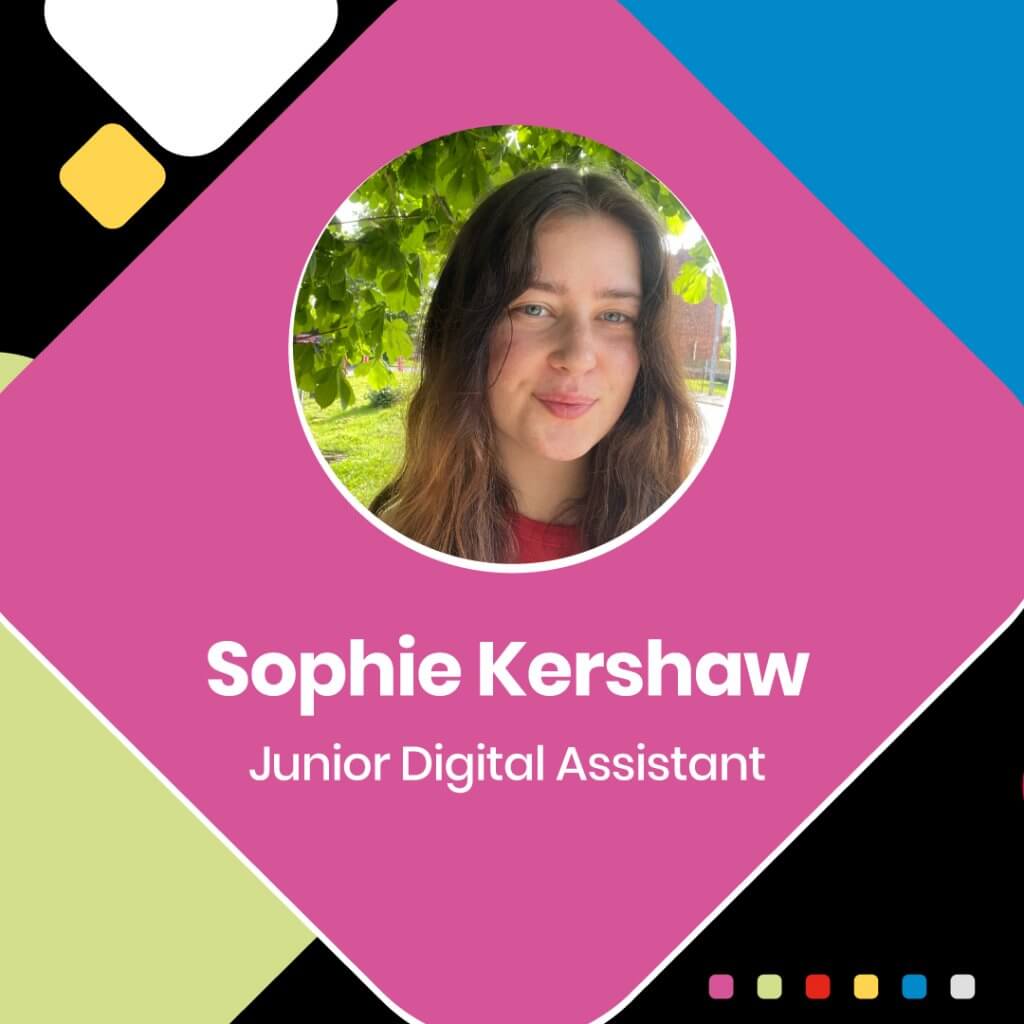 Get to know Sophie – our newest member at PAB Studios whose role is Junior Digital Assistant!
1. What is your day-to-day role/what does your job involve?

My role as a Junior Digital Assistant mainly consists of work relating to social media. For example, I research current Instagram and TikTok trends and take note of how PAB Studios and client accounts may be able to use these ideas. I film, edit and schedule social media posts across various platforms.
2. How did you become interested in your area of work?

During the first lockdown, I was still at Greenhead College and needed something to pass the time and boredom. I started a fashion page on Instagram and worked with a few small businesses to promote their products. I loved the feeling of being able to help a business increase their brand awareness to a greater audience. I wanted to do this at a larger scale, so after finishing college I completed a digital marketing apprenticeship and haven't looked back since.
3. What is your favourite thing about working at PAB?

All the different tasks I'm involved in, which continues to increase. I love to have different tasks to keep my mind buzzing and it allows me to constantly be learning new things.
4. What trends do you think are upcoming in marketing?

UGC (user-generated content) is already in place, but I believe it will continue to grow even further. User-generated content is any type of content created by people rather than brands or known figures. This could include: text, photos, videos, reviews and more.
I recently read an article that UGC is currently performing better than influencer posts across social media. This is because UGC is more authentic as it's typically content created by a normal individual using the product without any incentives.
5. What does PAB's value 'data drives decisions' mean to you?

To me, 'data drives decisions' means how PAB Studios, as a marketing agency, creates successful campaigns and strategies for the clients. The data is the place where we can see what is working for a client or if there are areas of improvement and what can be done to improve.
6. If you could live anywhere, where would it be?

I would live somewhere warm with either the sea or the countryside within distance. I seem to flourish when in the sun, so I would love to have that feeling long-term. For me, the sea and the countryside are areas of tranquility where I would be able to reflect without the feeling of being rushed for decisions.
7. What are your hobbies/interests outside of work?

My top three hobbies are:
Photography
Reading
Weight training
These three activities allow me to go into a different space and take time away from everyday life. I feel that they are activities where I'm able to further better myself as an individual.
8. What's your favourite part of marketing?

My favourite part of marketing is the creative aspects of the job. I love to come up with ideas that are fresh and appealing to a target audience, whilst having a very aesthetic feel to it. I find creating and seeing something aesthetic is quite soothing and brings a sort of peace. At PAB Studios, I'm able to explore my creativity even further to bring new ideas to the table, which can be used across social media.
9. If given the opportunity, what book would you write?

Writing a book is something I dream of being able to accomplish one day. If this became a reality, I would most likely write a fantasy/supernatural book containing witches and demons where a world is in peril.
10. How has your perspective on the world changed over time?

When I was younger, I used to believe that if things were meant to be then they would happen naturally. Now that I'm older, I still believe this to a degree, but I understand that opportunities don't come freely like 'magic'. Instead, you have to work and put in the effort to get to where you want to be. For example, receiving my role at PAB Studios was due to putting in the effort for the outcome I wanted. I needed PAB Studios to see my potential and for myself to believe I was worthy of the role.