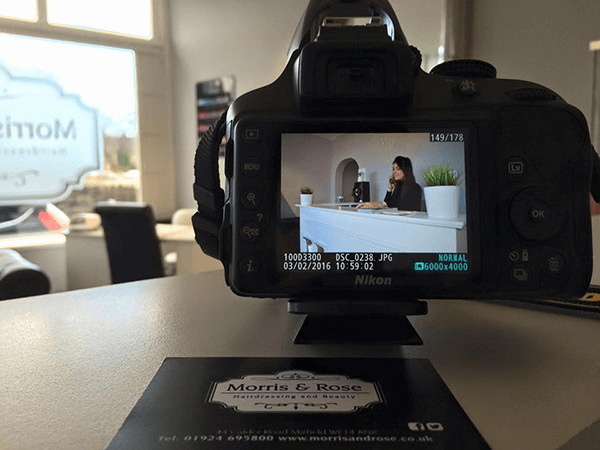 "We approached PAB Studios with a vision. They nurtured our ideas from the start and turned them into reality.

Our earliest concern was how our brand would look. We wanted to make sure our logo and design work gave the right impression to attract clients. We acknowledged right from the get go how important brand is. Both of us knew it would play a massive role in making us stand out from the crowd. Thankfully PAB Studios 'got us'.

We now have a professional website and an amazing shop front that gets compliments from our lovely new clients. PAB Studios deal with our print work on a regular basis and they maintain a fantastic service!"
Morris & Rose – Our startup superstars
We love working with start-up businesses. It gives us great pleasure in seeing their growth in business. We are as passionate about their ideas as we are our own. In our contribution we aim to put small/start up businesses at the pinnacle of their profession, whilst maintaining brand ethos.
PAB Studios have put together five top tips for start-up business to get you
well on your way:
Fill out a detailed business plan
"Fail to plan, prepare to fail"
Filling out a detailed business plan is compulsory when starting up your own
business. It helps identify your strengths and weaknesses and things you might not
of considered as a factor. Completing this will also conclude whether your business is
financially feasible.
Brand Positioning
"We use Brand to project who we want to be in the world, how we want people to
perceive us, and how we want to feel about ourselves"
Understanding who you are as brand will make you more approachable. Be
consistent and make sure you are always appealing to your target audience.
Seek professional advice
"When you need professional advice, get it from professionals, not from your friends"
Seek advice from working professionals. It's good to get a second opinion from
someone who is successfully running a business, even better if they are working in a
similar industry.
Be more wolf
"Wolves don't lose sleep over the opinions of sheep"
We are not referring to the film 'Wolf Of Wall Street' for all the wrong reasons but
more on the idea of having confidence within yourself. Be a leader, take risks, set
goals and have faith in your ability.
TOP TIP – From Camille Johnson – Director PAB Studios
People spend months dreaming about running their own business and spend even
more time planning the launch. It can be a stressful time thinking how you're going to
make money every week so more often than not these fears result in us not going
through with the business at all just because we over think it. The mistake people
make, is waiting for everything to be perfect, when, nothing in life is perfect.
Don't put off launching a business just because it's a full moon or the forecast is bad
so it'll be bad luck, think like Nike, "Just do it". You can fine tune areas over the
coming months and if you need to change direction if the original plan isn't working,
a fine tweak here and there can make all the difference.
Plan, Do, Check, Adjust – "do" being the most important part of the start-up
process.