In May 2023, we have seen various new updates to the social media platforms we use daily. At PAB Studios Wakefield, we have put together some of the recent updates that have caught our attention as a marketing agency.
TikTok Update
Search Widget for iPhone:
We all know that TikTok is becoming a search engine of sorts – especially amongst Gen Z – and they have played on this by creating a TikTok search bar widget, similar to Google's. The new widget is available across iPhones and iPads to be displayed and easily accessed from your home screen.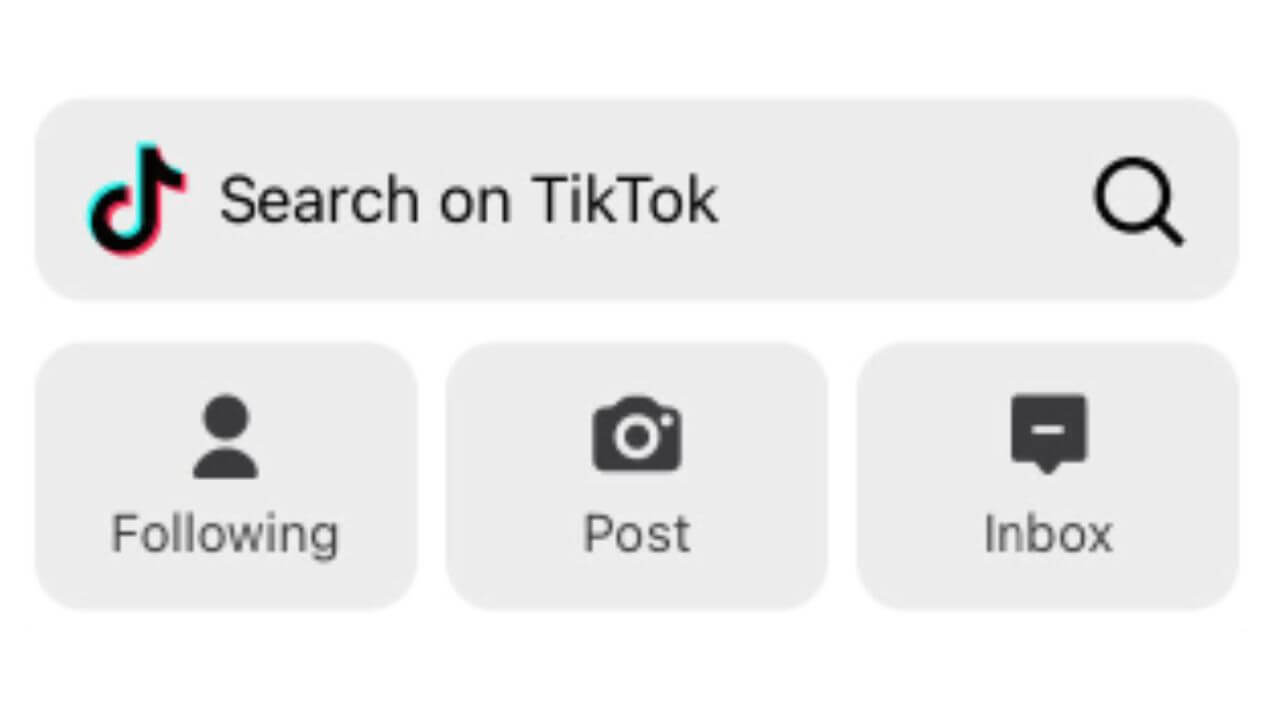 Wanting a query answered or some restaurant recommendations in the city, use this search bar and all your problems are solved. In addition to the search bar, the widget offers three other buttons as shortcuts to popular sections within TikTok: your following list, upload a post and your inbox.
However, it's important to note that many people don't use widgets on their phones. Some think they are an eyesore; others believe it's just as quick to use the intended app thus unnecessary to clutter their home screens.
Will this new widget update be the next best thing since sliced bread? We will have to wait and see.
Instagram Updates
Instagram reel editing now allows you to split videos in the app:
It's so frustrating when you go to post a reel, end up needing to split your clip, and then you must leave the app to make these changes in a different app.
Well, no more! A recent update has improved Instagram's in-app editing, which allows you to now split your video.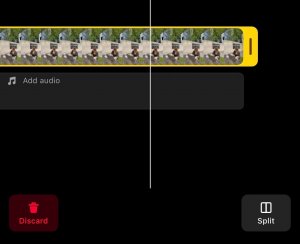 We have already tested this new tool and it feels like a breath of fresh air. There's now no need to edit in an external app and then re-upload your reel into Instagram: this is a big time saver. Also, Instagram is going to introduce two more features soon to help improve reel editing: speed and replace. We will delve into these features more once we have been able to experience them.
Instagram is testing AI sticker generation for Stories:
This year alone, Instagram has shared a lot of updates for the app and for the latest one, they are delving further into the realm of AI.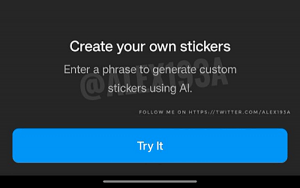 Have you ever wanted to use a sticker on a story post, but couldn't find what you wanted? Well, your struggles may be over soon. The AI generator will allow users to create custom stickers by adding a description of what they are looking for, then having the ability to share these visuals with their audience.
Meta has kept no secrets about its intentions in the area of AI. They hope that by giving Meta users access to AI tools, it will prompt more people to try them and hopefully share these designs elsewhere to raise awareness among others.
At PAB Studios Wakefield, we are looking forward to seeing this live and being able to try it out. Will it be a huge success, or will it be a one-and-done situation? In the past, updates have been popular after the initial release, but have then been forgotten about – the hype is over.
Facebook Update
Meta adds new lead generation tools on Facebook:
Meta is looking to help brands have more direct contact with consumers on Facebook and are introducing four new lead generation updates.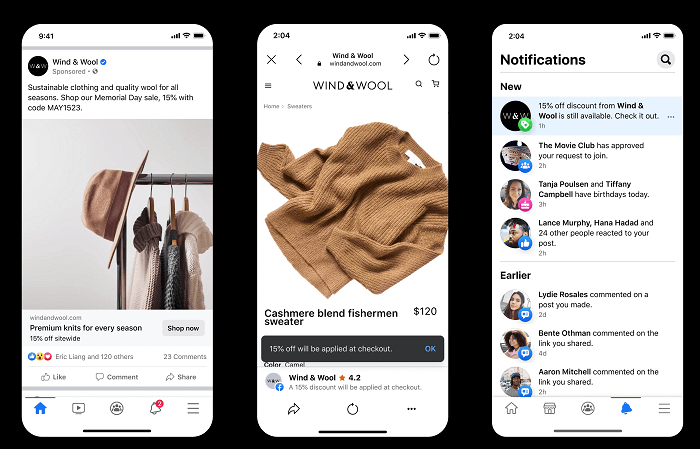 First off, there will be a new way to utilise brand discount codes as they will be automatically added in the checkout flow. Consumers will receive notifications about a new discount and will be notified again before the code expires – this is if a consumer got to the checkout but didn't complete their purchase. This could be a good way to help brands increase their sales.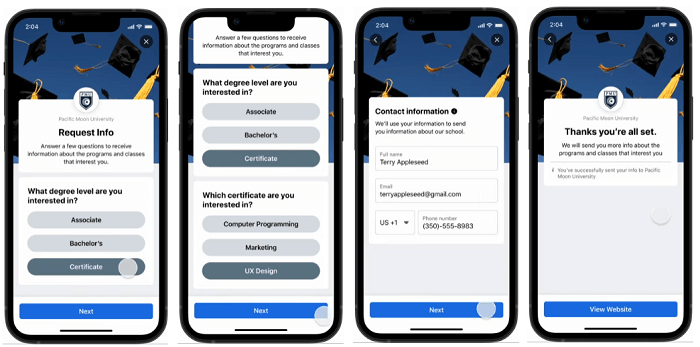 Meta is introducing a dynamic question flow, which will automatically update depending on a user's response to the questions. Based on their answers, you will be able to direct the individual to a specific web page where they can find what they're looking for.
For example, a marketing agency could use this question flow to see what services a company needs and then send them more information about what is included.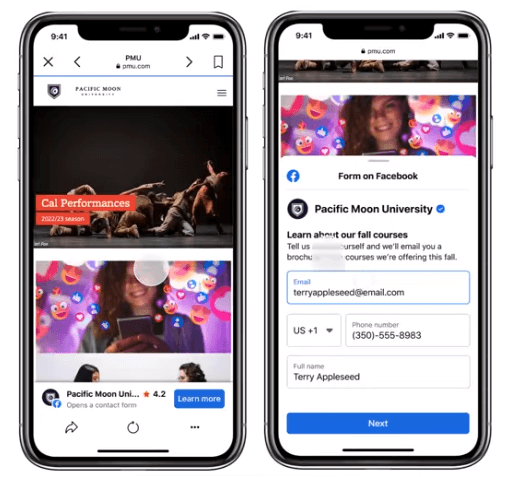 The third update will allow brands to apply feedback forms from Facebook on their own sites. This could work well for brands as the form has the simplified information gathering of Facebook, which also uses information from the user's profile.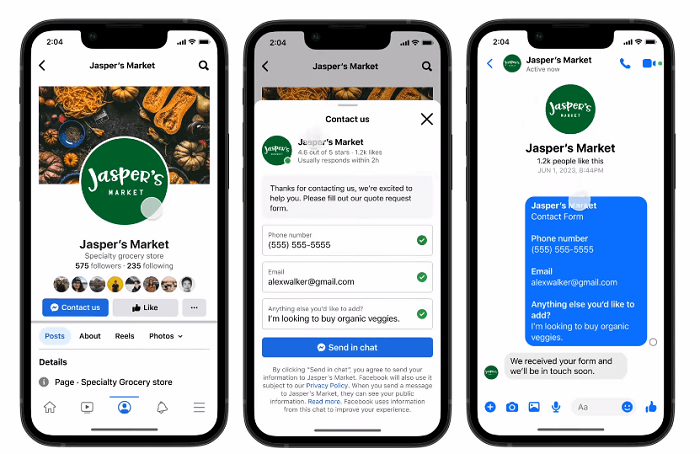 Finally, businesses will be able to add lead generation forms to the 'contact us' button on their page. This will allow for easy information collection on a user and the query can be passed on to a relevant staff member who can help.
Meta's new updates could prove successful as it seems they are focusing on making data collection easier and should prompt follow-up responses, especially with the discount code feature.
LinkedIn Update
LinkedIn will no longer count inactive or restricted accounts in follower stats:
This new change to LinkedIn stats will better support members in seeing more reliable engagement and reach insights.
But what are hibernated accounts? Hibernated accounts are LinkedIn profiles that members have deactivated for a period of time, instead of completely deleting it. If these accounts become active again, then they will be added back into your follower statistics.
Currently, it is still unclear whether LinkedIn will also stop including hibernated/restricted in its overall member stats. It's important to remember that 'members' and 'active users' are not the same thing. LinkedIn has 930 million members, but the active user count is considered to only be around 474 million.
As a marketing agency, we love to see this adaption of clearer insights as it does allow for more accurate representations.
Overall, May has seen numerous updates across the social media platforms. We are excited to see how brands will utilise the new features and how successful they turn out to be. At PAB Studios Wakefield, we think the Instagram reel update and the Facebook lead generation forms will be the most beneficial amongst both consumers and brands. It will allow consumers to have a better experience and brands to collect data.
 Follow along for our monthly social media update blog. The next one will cover social media updates in June!